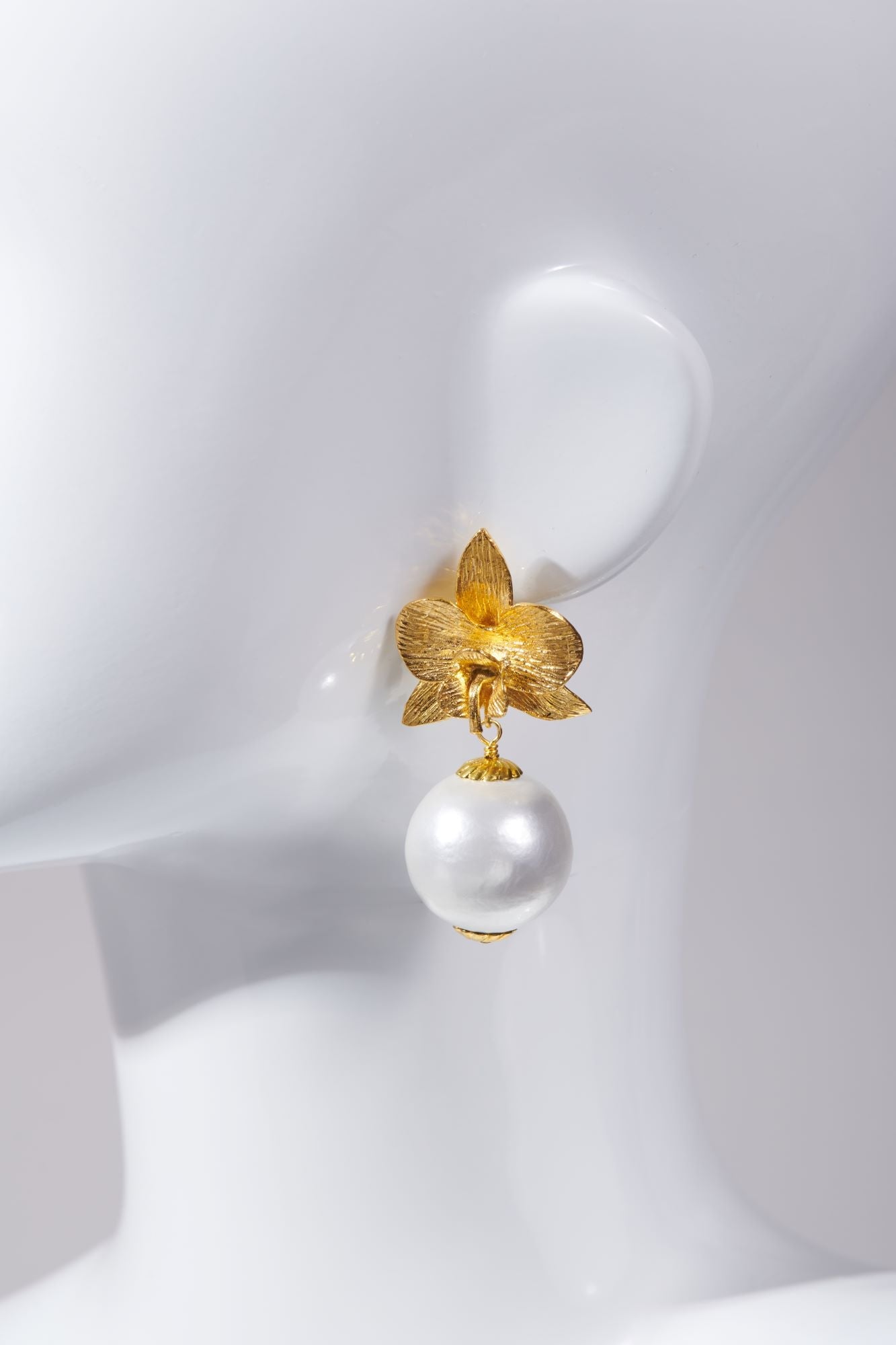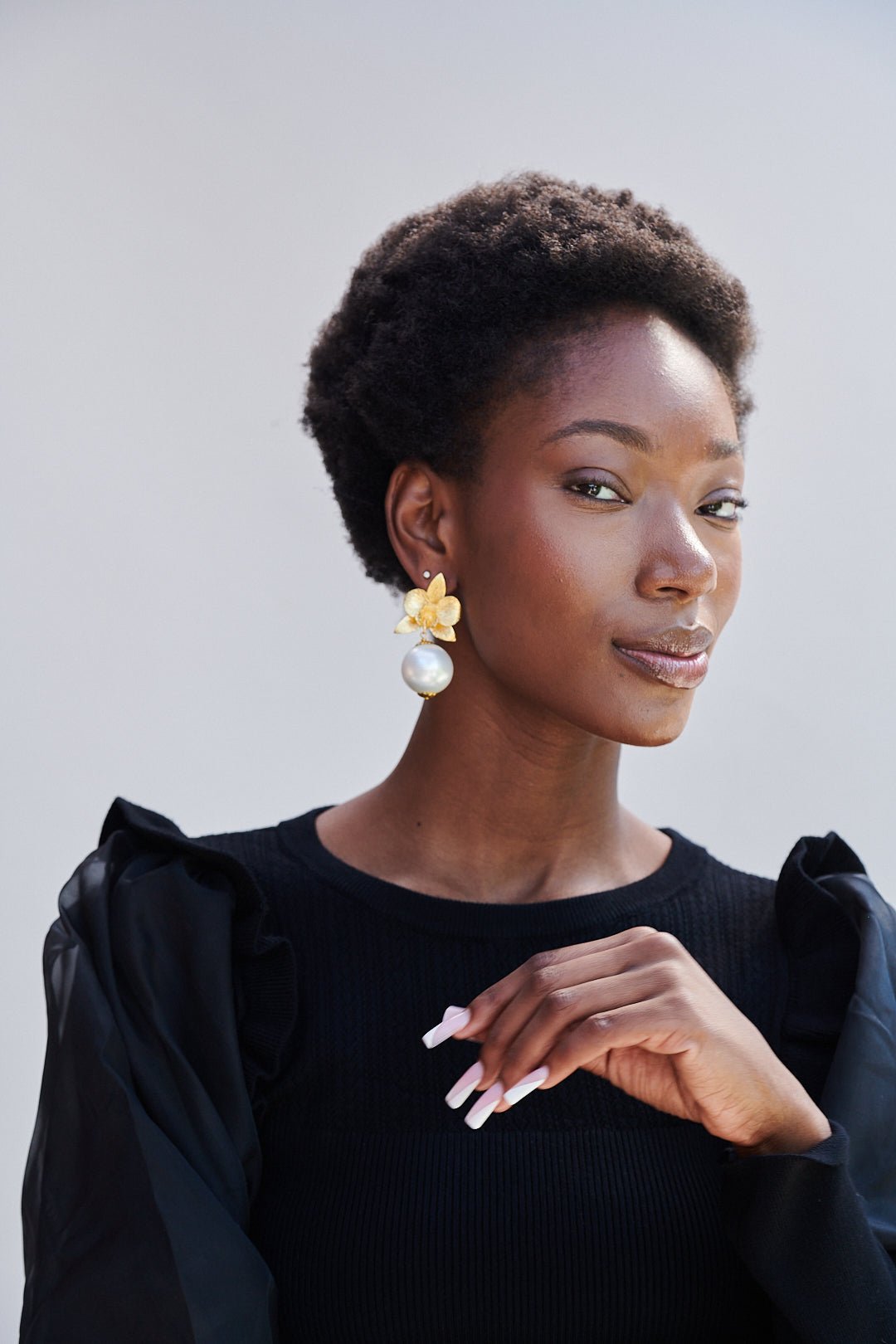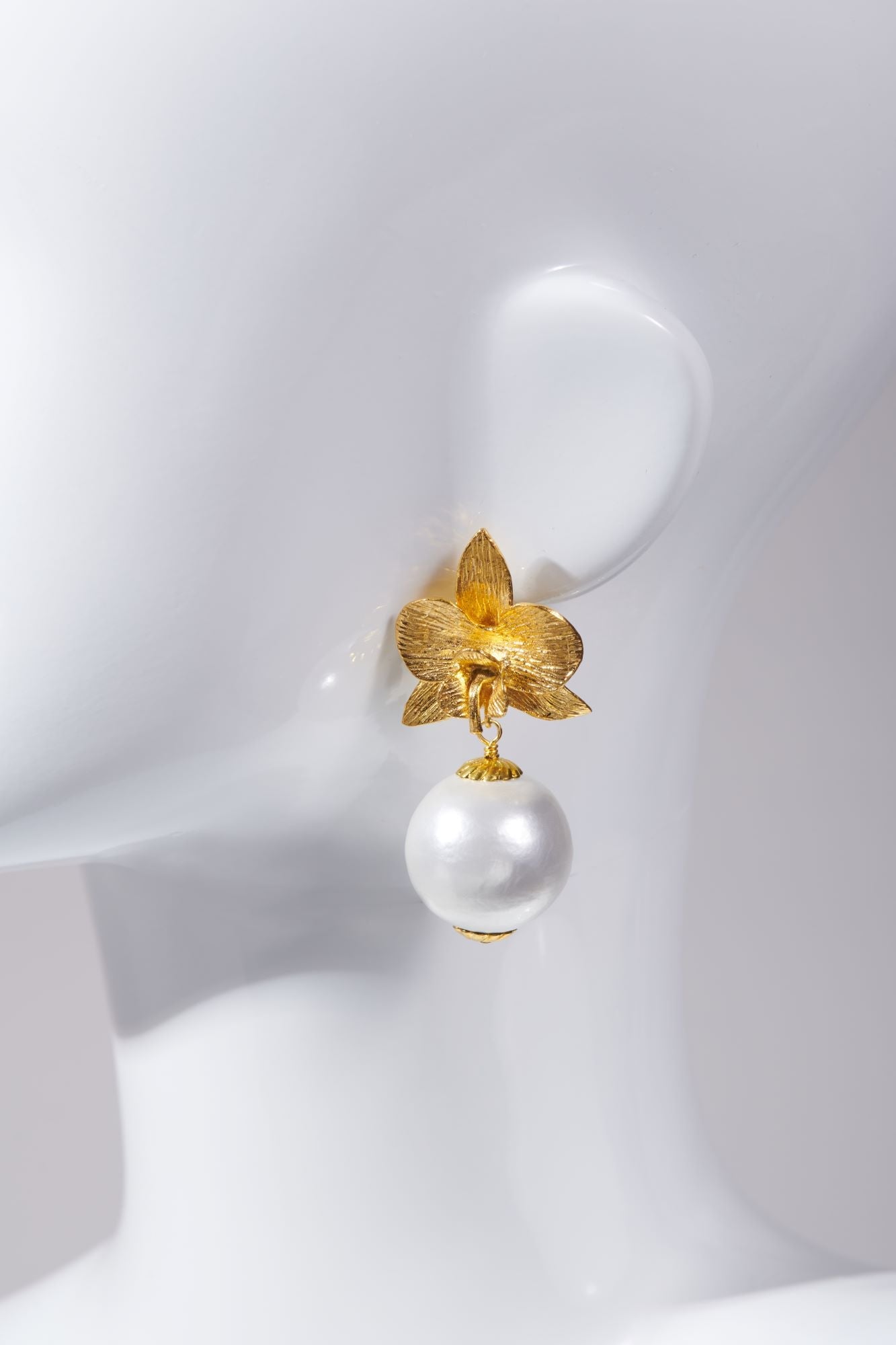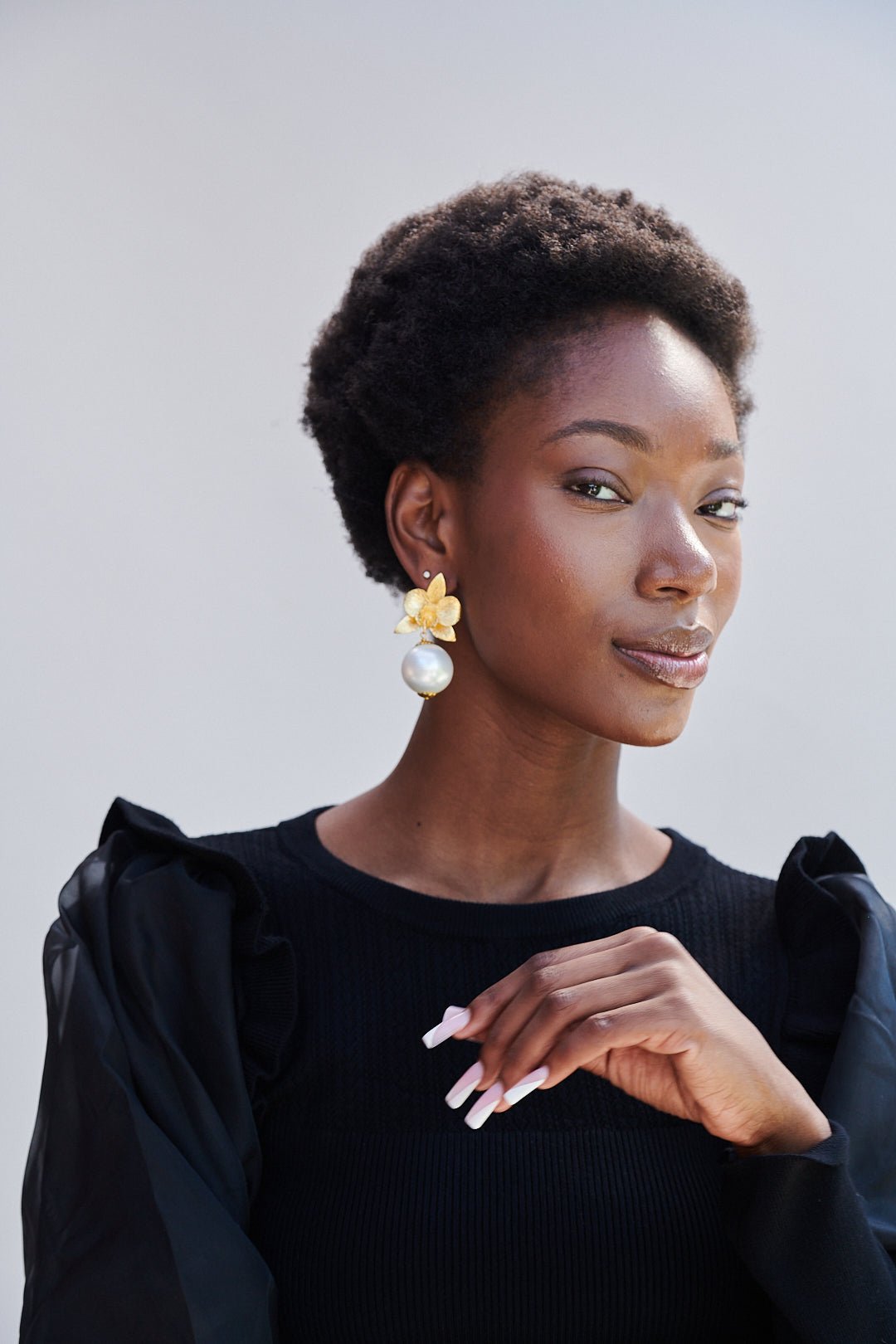 Cotton Pearl Orchid Earrings
Regular price
$68.00
Save $-68.00
---
Big, glamorous orchids are the focus here, with an equally big lacquered cotton pearl. These earrings are surprisingly light weight and a major statement!
Product Details:
2.5 x 1 x 1"

Cotton Pearl
Gold-Plated Metal
Hand-Assembled
Nickel-free Posts
View Full Details
Floral Acrylic Initial Bag Charm and Keychains
Regular price
$38.00
Save $-38.00
---
One of the stars of the spring 2020 collection, these happy initials contrast vintage floral illustrations with a bold white background. They are silkscreened on clear acrylic and then laser cut; A baroque pearl nestled in a leaf adds the finishing touch. Clip to your bag, use as a keychain, or both. We picked an orchid, rose, or tulip for each initial, so please note that flowers can not be specified.
Materials Included: 
Measures: 4" overall, 2" Initial
Gold Plated Metal
Printed Acrylic
Genuine Baroque Pearl
Handmade
Good gift
My step daughter loves tulips...bette than flowers...she loved it@
30" Queen Bee Charm Holder Necklace
Regular price
$48.00
Save $-48.00
---
Bees are ever-popular symbols of hard work, perseverance, and for that special someone, being the queen bee too! Our bee charm holder is a fresh way to wear charms—clip an eclectic collection for a true one-of-a-kind look.
Materials:
30" in length
Lobster Clasp
Gold-Plated or Silver-Plated Chain
I love my bee necklace
This necklace is really nice. I love the length and it has nice weight to it. I would recommend this item to anyone looking for a nice gift for someone or themselves.
Crystal Swing Bee Earrings
Regular price
$46.00
Save $-46.00
---
Classic crystal-encrusted enamel bees swing freely in these elegant but fun earrings. The rich black enamel makes for a dramatic, eye-catching earring.  The neutral white enamel goes with everything and is our best selling color. And we love the purple enamel--symbolic of royalty (Hello, Queen Bee!) and is also the 2018 color of the year.
Materials:
Crystals and enamel
Gold plated metal
Nickel-free lever backs
1" overall length; drop from leverback is 1.5"; wingspan is 1.25"
Beautiful Bees
I wore them for mother's day and they stood out beautifully. The earrings have a little weight that allows them to hang nicely. This was a good purchase.
15-17" Fresh Water Pearl with Bee Pendant Necklace
Regular price
$68.00
Save $-68.00
---
Genuine Fresh Water Pearls give this classic necklace an heirloom feel, reinforced by John's artisan hammered metal clasp. Suspended from the pearls is a stately, crystal-encrusted enamel bee, symbolic of good luck, hard work, and community~
Materials Include:
15-17" Long .4" pearl width with 1"charm
Genuine fresh water pearls, crystals, enamelled and gold plated metal
At The Plaza Butterfly Huggies
Regular price
$68.00
Save $-68.00
---
Easy as 1-2-3... A vintage rope huggie, a chandelier crystal from the Plaza hotel, and a pretty acrylic butterfly~
PRODUCT DETAILS:
Measures 2.25 x 1/2 x 1/2"
Gold plated metal with surgical steel post
Vintage chandelier crystal
Acrylic butterflies
Plaza Butterfly Huggies
Plaza Huggie Butterfly earrings are lovely and fun! I love the Plaza collection and have several pieces. A tribute to a grand place and time. I highly recommend this series and these earrings.
Shop more Spring's Blossoms